Stamped Concrete San Diego, CA
Concrete stamping is in no way novel in the building and construction industry. It has been around since the early 1970s hen contractors deemed it ideal for increasing the aesthetic appeal of concrete floors. Today, contractors can take full advantage of existing technology and resources to create magnificent stamped concrete for both indoor and outdoor applications.
Finding concrete stamping services in sophisticated regions such as San Diego should not be a daunting task. Nonetheless, you need to work with qualified reputable contractors who can guarantee top quality outcome. At San Diego Stamped Concrete and Staining, our aim is to help clients install the best stamped concrete for their unique needs. Whether you need new installation or simply want stamped overlays to refurbish a rusty pathway, our team will help you install the best quality.
Driveways

Concrete Patios

Concrete Pool Decks

Sidewalks and Walkways
Concrete Floors

Commercial Spaces

Garages

Recreational Facilities
Stamped concrete or overlays – which should I choose?
A good stamped concrete San Diego contractor should be able to recommend the best option based on your unique needs. Like concrete staining, stamping is a process that can be achieved in various ways including;
Accumulating Base and Accent Colors
If you want to enliven your building's color, then accumulating base colors is the right technique for stamping. Accumulating accent colors is done to create texture and give glimpses of other building materials.
Stamping Concrete While it is Wet
This technique involves implanting concrete before it dries. Everything else including color should be done before introducing the stamps.
As the name suggests, stamped overlays are thin layers of concrete that is installed existing concrete surface to provide the benefits of stamped concrete. With overlays, you do not need to install new concrete floors.
Your choice depends mostly on what you want to achieve and how your existing surface looks like. The main difference between conventional stamped concrete and stamped overlays is the former can be a new installation while the later is installed to refurbish existing concrete surfaces.
San Diego Stamped Concrete Design Tips
Like polishing, stamping is mainly done to increase aesthetic appeal and customize your surface to blend in with its surrounding. Whether installed indoors or outdoors, stamped concrete will immediately make the surface attractive. Some design tips to ponder when weighing your options include;
Talk to a professional contractor for ideas and design styles. You can request a gallery of previous projects or even look for stamped concrete in your neighborhood. This will help you quickly come to a decision on what you want the final outcome to be.

Visit exhibitions and showrooms organized for concrete contractors to share their ideas and expose their crafts. You may just find the right insights on what to create for your own needs.

If you are installing stamped concrete floors, match your roof and interior wall design
for a better transition especially if the building has brick patterns. Nonetheless, the designs and patterns you choose should complement and highlight your structure's color scheme. Besides aesthetic value, make sure the stamped concrete increases durability, space functionality and versatility while reducing cleaning and maintenance requirement.
When installing stamped concrete, there are various colors to choose from including walnut, dark red, Venetian pink or platinum grey. You can equally select from a list of patterns; fractured slate, river stone, limestone, cobblestone and sandstone. When combined with concrete staining, stamping can help you mimic the look of natural stone, wood, tile or marble. You can also engrave brand logos and custom patterns that will personalize your space making it unique from any other.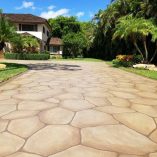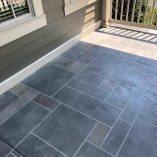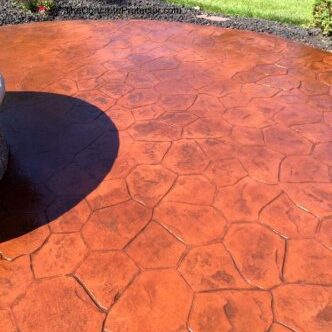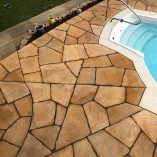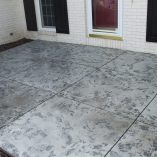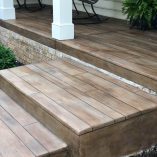 Stamped Concrete Applications
The benefits of concrete stamping are quite straightforward and range from increased durability to aesthetic beauty, customization and broad application. Stamping is also a cost effective way to increase longevity especially when overlays are used. Installation costs range from $7 to $20+ depending on the complexity involved, materials required and overall volume of the project. The cost is charged per square foot.
Stamped concrete can be installed anywhere including pool decks, patios, driveways and augmented fireplaces among others. The great thing about stamping is overlays; you can use the thin layers to renovate a rugged floor, stamp the floor with magnificent patterns and add decorative elements. Overlays can also be made to mimic wood planks, slates or natural stone among other effects. You can contact us at any time for inquiries and questions about concrete stamping and staining.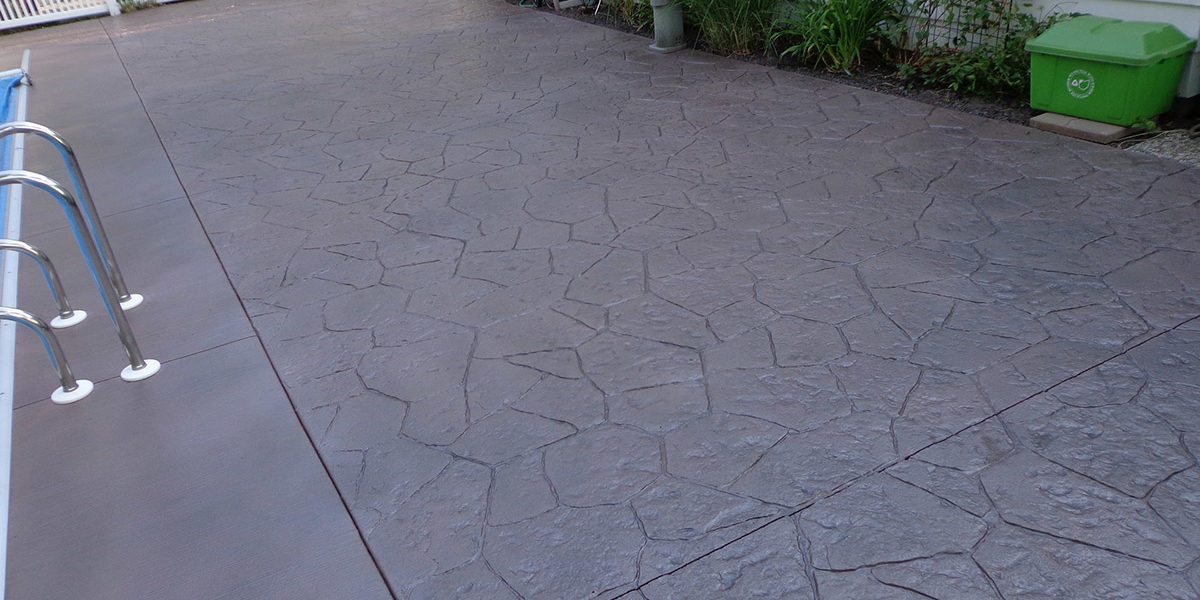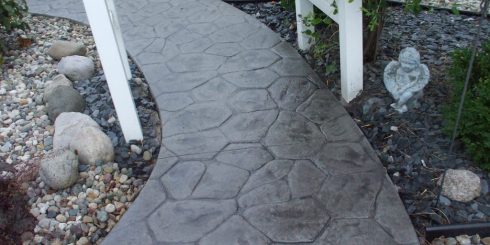 We only use the highest quality epoxy and concrete staining materials for projects. When working with us, you're investing in your property's value with long-lasting materials.
We are proud to be a concrete flooring contractor in Columbus, OH that residents trust. Our business is built on our customer's satisfaction. Our work isn't done until you're happy with the results! 
Affordability is hard to find in the world of construction, but you've found it here. We provide competitive pricing to deliver value for your money.
Our investment with Columbus Epoxy & Stained Concrete adds value to your home or property. Professional installation from a trusted company ensures your floors last.
Greater San Diego, CA | Chula Vista, CA | El Cajon, CA | La Mesa, CA | And Beyond!
© 2022 San Diego Stamped Concrete & Staining