Concrete Staining San Diego, CA
Concrete staining is among the trending techniques recommended by both contractors and homeowners. With staining, you can easily transform your commercial or residential floors from the dull grey concrete color to dynamic magnificent hues. Staining is basically a procedure that adds color pigments to your concrete giving it a wide range of possibilities.
The process also increases durability. At San Diego Stamped Concrete and Staining, our goal is to help clients install the best stained concrete in their homes, offices, retails among other surfaces. We offer commercial, industrial and residential stained and stamped concrete.
Concrete Floors

Patios

Pool Decks

Driveways
Sidewalks

Garage Floors

Commercial Spaces

Recreational Facilities
Concrete Staining Techniques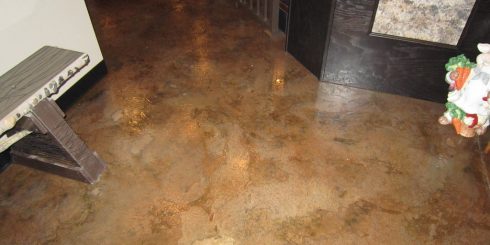 Acid stained concrete will ensure the stain runs through the entire mass; the stain won't fade or chip away. Acid stains are made using hydrochloric acid and metallic dyes whereas water-based stains, also known as concrete dyes, use pigments and acrylic polymers.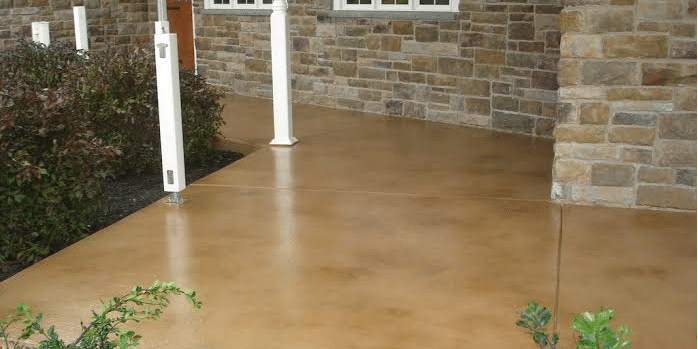 Water-based stains will only penetrate the top layer of the concrete, but even this won't fade or chip away unless it is a big unusual crack. Both techniques produce permanent stain that can be used for various applications.
Why stained concrete?
Concrete staining is done to drastically improve the aesthetic beauty of any concrete flooring. However, staining results in several benefits that make it one of the most popular techniques used by modern concrete contractors. Some of the advantages of stained concrete include;
Increased lifespan

Stained concrete is resilient and can withstand heavy foot and equipment traffic. Concrete surfaces are generally very durable. With staining, you can say goodbye to fading, discoloration or peeling. It is the perfect alternative to paints which are thick and peel off more frequently. Stained concrete can last several years and require low maintenance to refurbish the surface.

Very attractive

staining is a process that immediately decorates your concrete surface making it unique and in place. When handled by our experts, you can create hue or color scheme including mimicking marble, granite, wood and tile finishes. Any reliable stained concrete San Diego contractor will recommend it as the best way to improve the aesthetic appeal of a room.

Energy efficient

Stained concrete will absorb heat during the summer or cold during winter. It then releases the energy back into the room as the temperature shifts. This property makes it ideal for regulating indoor temperatures as it reduces the load on your ac appliances. You do not have to crank up/down the air conditioner.

Easy to clean and maintain

When properly installed, stained concrete will need no maintenance for several years to come. All you need is occasional polishing to bring back the brand-new look. The final surface is also very easy to clean.

Other benefits

Water resistance, versatility, trendy, customizable and easy to install.
Despite all its merits, stained concrete is quite cost-effective compared to other refinishing techniques. The cost of installing stained concrete ranges from $2 to $20 per square foot. Nonetheless, the final quote will depend on the complexity involved, area of installation and materials required among other variables. We run a 24 hour business and will be glad to answer any questions regarding concrete staining and stamping services in San Diego, CA. Contact us today for more information.
We only use the highest quality epoxy and concrete staining materials for projects. When working with us, you're investing in your property's value with long-lasting materials.
We are proud to be a concrete flooring contractor in Columbus, OH that residents trust. Our business is built on our customer's satisfaction. Our work isn't done until you're happy with the results! 
Affordability is hard to find in the world of construction, but you've found it here. We provide competitive pricing to deliver value for your money.
Our investment with Columbus Epoxy & Stained Concrete adds value to your home or property. Professional installation from a trusted company ensures your floors last.
Greater San Diego, CA | Chula Vista, CA | El Cajon, CA | La Mesa, CA | And Beyond!
© 2022 San Diego Stamped Concrete & Staining